9-Dec-2016
Petitions to the
House of Lords Select Committee
(See this page for the 1st round of petitions - July -September 2015)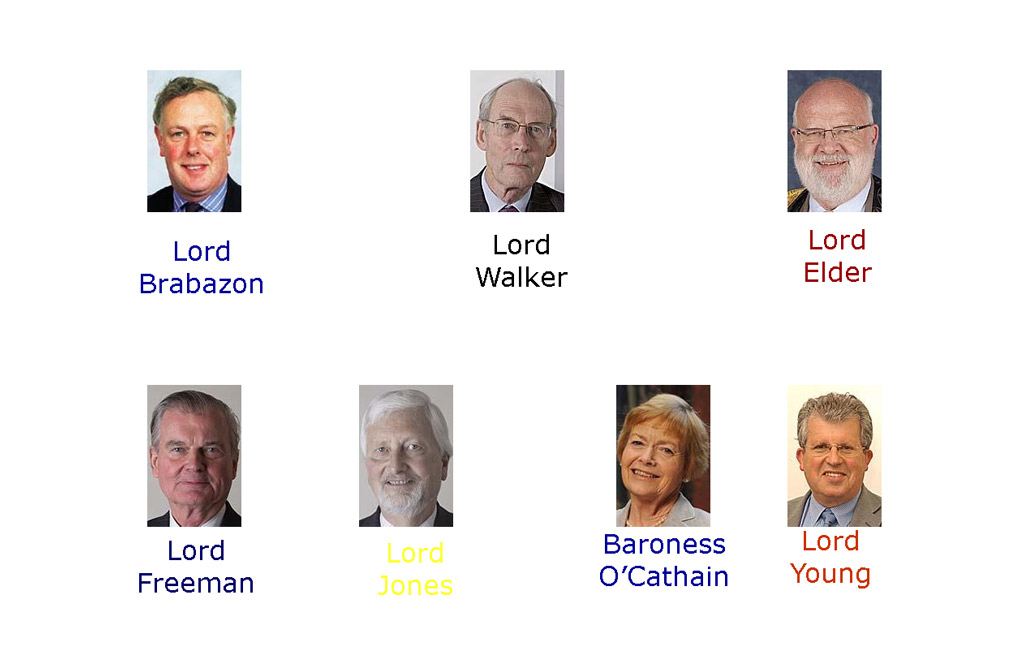 Their Lordships decided at the outset that they would not make any recommendation which would require an additional provision. Consequently, most petitioners scaled down their presentations, regarding the whole thing as a 'tidying up' exercise. Their Lordships, the lawyers and the HS2 suits were presumably still sufficiently remunerated for their efforts, despite this failure to perform the scrutiny which HS2 still requires.
The petitioners paid their own way, as usual.
Locus
HS2 Ltd issued 414 locus standi challenges (allegedly on these grounds) - listed here. The outcome of the challenges is recorded in the (full) list of petitioners. Most challenges were upheld, including those against all MPs along the route.
Chilterns Petitions
Petitions of Chilterns organisations will be listed below (in due course) :
Chilterns petitions to the HoL
Organisation
Speakers
Evidence
Bucks CC
Mr Lewis, Cllr Tett, Mr Newell, Mr Mould p3-60
Slides
Chiltern District
Mr Lewis, Ms Holden, Cllr Gladwin, p6-27
The Chiltern Society
Cllr Gladwin, Dr Bailey, Dr Conboy p12-33
A615
Potter Row, South Heath
Ms Wharf, Mr Griffiths, Mr Hindle, Dr Hook, Mrs Williamson, Rt Hon Cheryl Gillan MP (p3-65)
A635, A636, A638-9,
A637,A640-43
Great Missenden Parish Council
Cllrs Hewitt and Johnstone, p28-62
Little Missenden Parish Council
Cllr Giles, Mr Cordiner, Prof. Payne p50-73
Slides
The Lee Parish Council
Cllr Colin Sully p34-67
Slides, Exhibits
Wendover Society, Parish Council
Mr Hindle, Mr Gayler, Mr Pallet p3-61
Ms Bulpet p62-70
See also
Bucks CC Documents
(Promoters Exhibits) Hosted as a public service by HS2 Amersham group
Bucks CC evidence pack (23-Nov-2016)

| Exhibit | Description |
| --- | --- |
| BCC_01 | Location Plan (Map of Buckinghamshire) |
| BCC_02 | Construction Map (Hilligdon - Little Missenden) |
| BCC_03 | Construction Map (Little Missenden - Stoke Mandeville) |
| BCC_04 | Construction Map (Aylesbury - Steeple Claydon) |
| BCC_05 | Construction Map (Steeple Claydon - Brackley) |
| BCC_06 | Operational Map (Hilligdon - Little Missenden) |
| BCC_07 | Operational Map (Little Missenden - Stoke Mandeville) |
| BCC_08 | Operational Map (Aylesbury - Steeple Claydon) |
| BCC_09 | Operational Map (Steeple Claydon - Brackley) |
| BCC_10 | Gt Missenden Haul Road (Assurances) |
| BCC_11 | Gt Missenden Haul Road (Sift report) |
| BCC_12 | Gt Missenden -Package of Assurances |
| BCC_13 | Gt Missenden & South Heath - Area specific information |
| BCC_14 | Wendover - HoC Special Report (extract) |
| BCC_15 | Wendover - package of Assurances |
| BCC_16 | SoS Letter (McLoughlin - Lidington, re Wendover) |
| BCC_17 | Iver relief road proposal |
| BCC_18 | Iver relief road options (Map) |
| BCC_19 | Community & Environment fund, Economy and Road Safety funds |
| BCC_20 | Ecology & Biodiversity - Overview |