27-Mar-2018
Chilterns HS2 Community Liaison Forum 

"Members of the public are invited to attend the HS2 community liaison forum at the Chiltern District Council offices. HS2 and their contractors will give a presentation on the current work programme and future plans for the local area.

This is an opportunity to hear directly from the contractors, to understand their approach to the work and to ask questions to the experts delivering the work on the ground."
Frequently Asked Questions sheet (prepared by HS2 ?), handed out at the meeting
Presentations
David McCann
( HS2 Senior project manager, Sector C1)
Main Works Civils Contractors (MWCC) currently 8 months into stage 1 - using information from the hybrid bill and ground investigations (GI) to produce a (costed) concept design (by November ?)
Then 3 months for HS2 to examine concept designs ( from all 4 areas), and issue
Notice to proceed - provided costs acceptable to DfT/Treasury
The final design can then start
Extra GI are in progress to fill gaps left by hybrid bill
Tunnel Boring Machine (TBM) procurement in progress; TBMs weigh 1500-2000 tons. Launched from the South tunnel portal, leave at North Portal (in pieces) down the Gt Missenden haul road

M25 slip roads are under construction; Tunnels are serviced from S Portal

Vent Shafts located at Chalfont St. Peter, Bottom House Farm Lane, Amersham, Little Missenden and Amersham
Shafts to be in place before TBMs arrive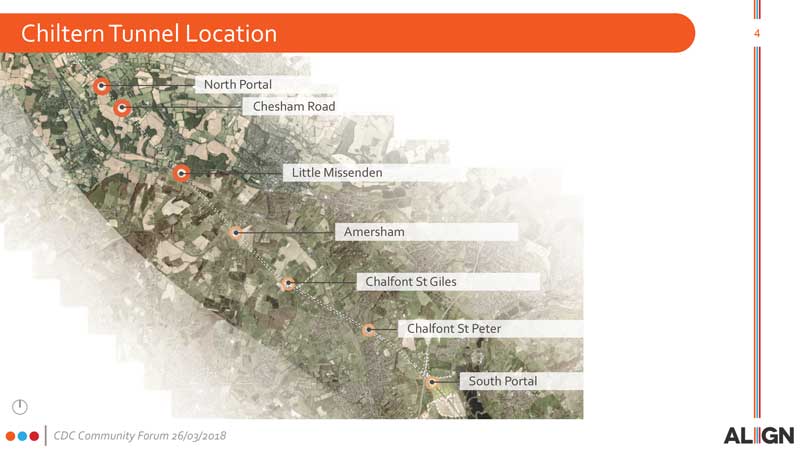 Richard Calvert - Fusion (preparatory works, C1,2,3) - slides
Currently undertaking Environmental & Ecological surveys, Archaeological investigations
Gt Missenden Haul road
Now in detailed design; 10m wide, 1 in 10 gradient
Required for National Grid Power line diversion (Mar 2019)
Excavated material to be retained for bunds (screening)
Soakaway near underpass under A413 (slide 6)
Roundabouts (at Gt Missenden)
Some widening of Northbound A413 & link road, to be complete by spring 2019 (slide 8)
Wildlife Habitat Creation underway at Park Hill, Chalfont St. Peter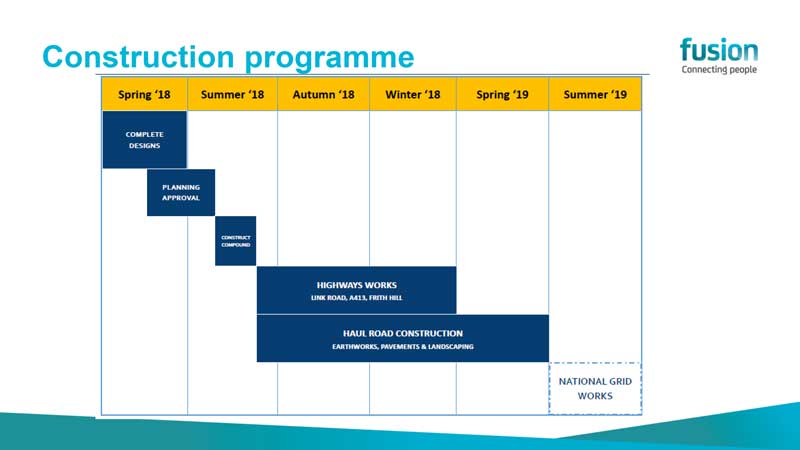 Fusion Construction Schedule, 2018-19 (s9)
Questions
Will diesel fumes from vehicles using the Haul Road impact air quality at the schools on the other side of the A413 ?

??

Why are Trees on the Link Road to be removed ?

Because their roots are compromised by the road widening

Why has there been no interaction with residents on Link Road ?

Our mistake, please see me afterwards
Simon Mathews - Eiffage,Kier (slides)
(MWCC , areas C2 & C3 )
At stage 1 of design, see slide 5
Schedule 17 submissions later this year

Design Approach (slide 8); Common Design Elements - e.g. viaducts - considering AONB design principles, drawn up by the AONB Review group
Wendover Dean Viaduct (slides 11- 17)
15,000 m3 of concrete saved -> 2,500 fewer concrete trucks (@6m3 each)

Site clearance & utilities preparations imminent

Aim to keep earth moving on trace, where possible - so will take place after bridges are completed
Traffic (slide 19)
LTMP required by July 2018, Schedule 17 applications from August

Additional GI works from May 18, locations TBA, in collaboration with Align
Community Engagement - Sharing of the designs; tiered release -

Parish Councils March/April
Public exhibition July/August
School Engagement from May
Stage 2 - site access from Mar 2019, completion by 2022 (Q4) see calendar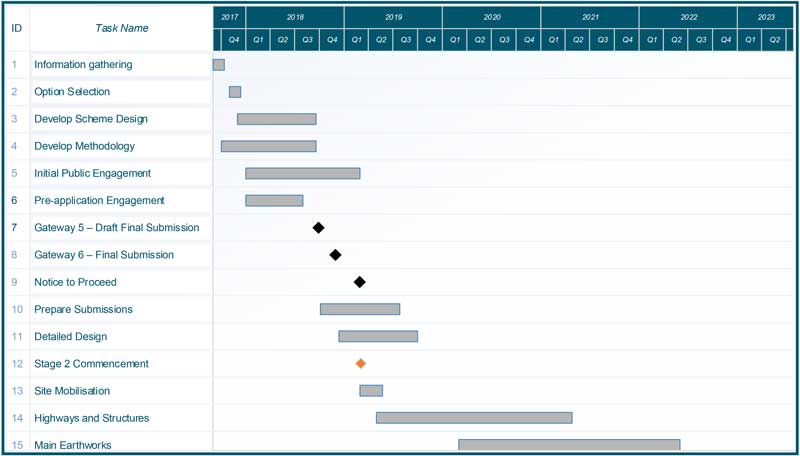 EK Construction Schedule, 2018-23 (s7)
Schedule 17 approvals
The HS2 hybrid bill approves HS2 construction works in the area defined by the bill. These works are submitted to the council for approval under schedule 17, but the council have very limited grounds to refuse such applications, and must also submit an alternative proposal. See this talk for details.

David Eades - Tunnel & Colne viaducts - Align (slides)
Contract etc as for C2

GI model progress (s5-7); 43 more boreholes planned

Tunneling methodology (s8-12) - see also River Chess meeting

Vent Shafts (13-39) - Little Missenden as example.
Reduced size of headhouse buildings -
more plant underground (fans)

North Portal (40-63)

Minimize footprint - tracks closer together, cover Porus portals, use smaller buildings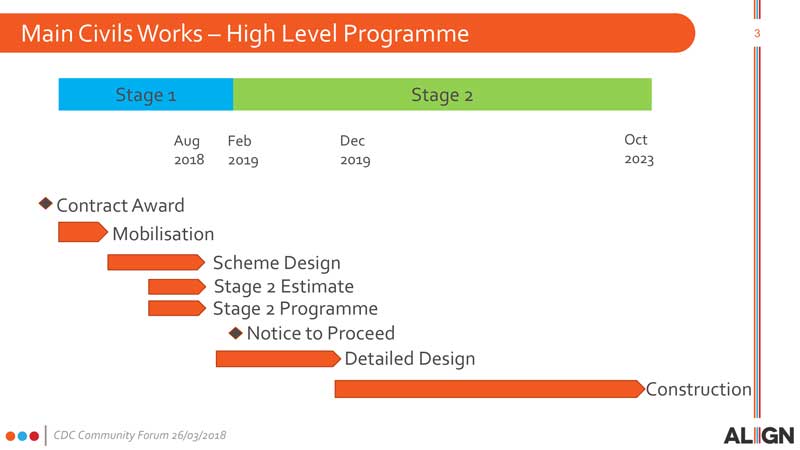 EK Construction Schedule, 2018-23

Questions
Are any utilities outages anticipated ?

Maybe brief interruptions during switchovers

Will there be noise pollution from Vent Shafts ?

Only ventilation plant ; -5dB


What about condition of Roads ? will repairs be done by BCC ??

See talk below

What happens about the Aquifer @ Chalfont St. Giles ?

TBM will manage …


Portals - will predicted noise profiles be made public ?

Yes, after stage 1

Borehole works on Whielden Street (for Amersham VS)

Poor site management, no signs,
Mud on road
Contractors parking in field
No traffic management - Safety concern ?
No reply from HS2 Community Engagement team

Should not have happened; HS2 will investigate


What progress with Sensitive Junctions (list agreed at select committee) ?
What mitigation will be done ? Is there enough time ?

See Transport Talk


Is there anything to report about Amersham ?

Not yet - but Little Missenden VS design improvements will be applied
Local Councils, Natural England, HS2
Design principles document developed - for MWCC final designs
17 design principles - e.g. Vent Shaft design
Additional projects - £3m budgeted (slide 6)
Feasibility studies being/to be undertaken

Rod Black - BCC Highways Update (slides)
Challenge for HS2 & Contractors to implement Undertakings &Assurances; Aim to minimise Traffic impacts, Safety the top priority
Changed traffic predictions since Environmental Statement

Lorry Routes in Bucks - See Map, slide 3

Herts looking for alternative diversion to Horne Hill Road - which is in poor condition

Some GI applications have been rejected - safety grounds

Review of non-A road lorry routes to assess road conditions

Use of AONB lanes under review - see Lanes Map, slide 6
and Chesham Society report
Questions
Priority Junction concerns - is there time to effect changes, before construction ?

Under discussion ...

How to control Rat runs'?

There is no HS2 funding for rat runs, and no BCC funding
Luke Nipen - Senior HS2 Engagement Manager (slides)
Community Engagement - programme of meetings for public and councillors underway
Two new websites -
HS2 in Bucks and Oxfordshire - details of local construction
New HS2 website - mostly HS2 propaganda; feedback requested !
Community Funds - administered by groundwork; £40m in all
(HS2 spent £6.6m/week in 2016/17)
New Engagement manager for Gt Missenden-Aylesbury, Vernon.loo
Comments ?
To comment on, add to or correct this document - contact us.